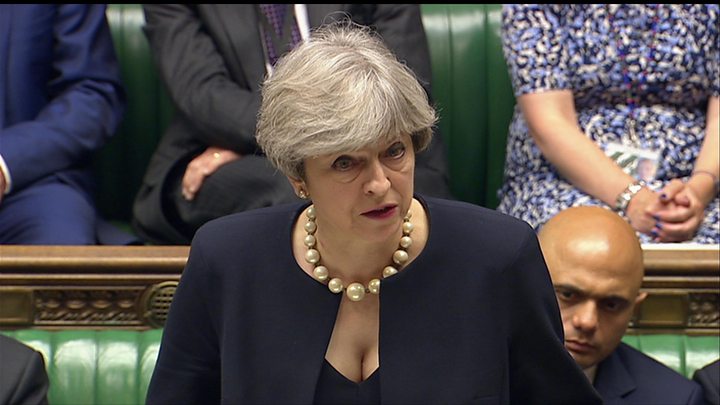 Tests on high rise flats have shown some of their cladding to be "combustible", says the prime minister.
Tower blocks across the UK are being examined after the blaze at Grenfell Tower, which left 79 people dead or missing, presumed dead.
In a Commons statement, Theresa May said all local authorities responsible for the tested flats had been informed.
The boss of Kensington and Chelsea Council has resigned after criticism of the London authority's response.
Mrs May said that the council "couldn't cope" in the aftermath of the fire, and that it "was right" its chief executive, Nicholas Holgate, had stepped down.
The PM said all UK councils affected were working with local fire services and "taking all possible steps to ensure buildings are safe and [to] inform affected residents."
After being pressed in the Commons for more details on whether the cladding passed fire and building regulations, she said the material tests are expected to be made public in the next 48 hours.
Sajid Javid, the Secretary for Local Government, will give more details about the testing later.
Over £700,000 has been paid out to survivors of the 14 June fire and Mrs May said she wanted to reassure them that no money would have to be repaid.
She also said resources would be available to everyone affected by the fire, regardless of their immigration status.
"I would like to reassure people that we will not use this tragic incident as a reason to carry out immigration checks on those involved or on those providing information to identify victims or those assisting with the criminal investigation," said Mrs May.
"We will make sure that all victims, irrespective of their immigration status, will be able to access the services they need, including healthcare and accommodation."
'Nowhere to hide'
Replying to Mrs May's statement, Labour leader Jeremy Corbyn said Grenfell Tower residents were "let down – both in the immediate aftermath and so cruelly beforehand".
He said: "At least 79 people are dead – it is both a tragedy and an outrage because every single one of those deaths could and should have been avoided."
Mrs May said she expected to name the judge who will lead the inquiry within the next few days.
"We want to ensure when the judge takes charge, people feel they can have full confidence in the inquiry," she said.
"No stone will be left unturned. For any guilty parties there will be nowhere to hide."
On Wednesday, the PM apologised for "state" failures following the blaze. Later that day, Kensington and Chelsea Council confirmed that Mr Holgate was resigning.
In a statement, he claimed that Mr Javid had asked him to go, adding that his continued presence would be a "distraction".
However, a spokesman from Mr Javid's department said: "The appointment of chief executives is entirely the responsibility of the local authority."
Finding new homes
The fire destroyed 151 homes – most in the tower block itself, but also a number of surrounding properties.
Mrs May said that 164 "suitable properties" had now been found for those made homeless, and they were in the process of being checked before residents can move in.
The new properties include a block of 68 flats in Kensington and Chelsea, sold to the government by the developer at cost price.
Get news from the BBC in your inbox, each weekday morning